Welcome to Ski Masters!

Summer 2024 will be here before you can say "Ski ya Later" and Ski Masters is already gearing up for the best summer ever! Most of our "old hands" know our procedures and sign up early to insure availability. If you are new to our program, give us a call at 830-832-6295 for more details on our 2024 schedule. Julie and Don are ready to answer your questions and mail you all our current information; including day camp opportunities.

2024 Dates are posted in the 2024 Events link on the left and also under More Information.
*** SPECIAL NOTE: You can also E-Mail us! Julieennis1953@yahoo.com


FORMER CAMPERS & COUNSELORS...Look for your FAMILYGRAM in January. If you need
to reserve your space earlier, let Julie know...
We can't wait as 2024 is already shaping up to be another Great Season at Ski Masters.

Ski ya Later!
Former National and International Waterski Champion Don Ennis and his wife, Julie Collie Ennis,
invite you to be a part of Ski Masters of Texas, a unique waterskiing school/sport camp
offering one of the finest facilities of its kind in Texas.
Founded in 1995, our facility is located on the shores of beautiful Lake McQueeney.
Owned and operated by Don and Julie, Ski Masters provides instruction at all levels for the skiing enthusiast.
Our comprehensive program includes everything from the first time beginner on two skis, to advanced slalom, tricks, wakeboarding
and barefoot skiing. We are results-oriented and, as a former student will attest, have earned the title of
"Best Little Ski School in Texas."
Our Goal
The main goal at Ski Masters is that our campers have a memorable experience
and a lot of fun in the process. Our program is designed to provide a safe atmosphere while learning
the latest skiing techniques. Don's 40-plus years of skiing experience enables both him and our
qualified staff to help young skiers realize their potential. Besides all the skiing,
we offer a wide range of activities, including volleyball, magic shows, sing-a-Iongs, ping pong, tennis
and much, much more.
Our Philosophy
Basic to our philosophy is remembering that skiing is a sport that tests character.
With a caring, wholesome family environment, it is part of our positive
mission to bring out the best in our young people. Each student has unique
physical capabilities and we build high self-esteem and confidence in
our campers through effective teaching, goal setting, and personal challenges.
At Ski Masters, we work as a team while stressing individual goals.
We always compete with ourselves and not with each other. Ski Masters promotes moral integrity,
leadership, sportsman or "ladyship", courtesy and dependability.

Best Way to Visit Us
A good way to visit Ski Masters is to get your own group of friends or family together.
However, it is also great fun come on your own. Our campers become great friends
and plan to return at the same time the following year.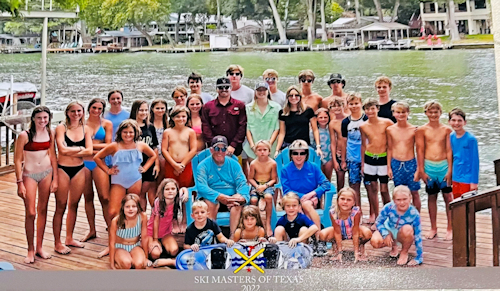 When to Come Visit Us
Officially, our weekly sessions begin the first week of June with the final week ending in August.
Our campers arrive on Sunday no earlier than 5:00 p.m. and leave Friday after our awards ceremony at noon.
Ski Masters also offers daily or weekend day camps and Private Ski Instruction with Don in the spring and fall prior to and after our regular summer camp.
Our Staff
All the staff at Ski Masters are professional, enthusiastic and energetic young people,
many of whom are former campers themselves. Our safety-minded counselors enforce the rules
on shore while our skiing instructors stress safety and proper boatmanship.
We make sure each student receives the personal attention he or she deserves.
All supervision is done in a cooperative, respectful manner.
Lots of Extras!
At Ski Masters, we have great air conditioned accommodations in addition to wonderful
home-cooked meals. Our guests can expect ghost stories, games, movies, Pizza Nite,
and other events such as live entertainment. We round out our week on Thursday with a
just-for-fun ski-by in front of the Lake Breeze Ski Lodge. Fridays are special
because that is the final day at Ski Masters for our guests.
Parents should arrive at 10:45 and stay for the awards ceremony at 11 :00 a.m.
Ski Lodge Accommodations
The Lake Breeze Ski Lodge is located just minutes from Ski Masters.
The Lodge provides the ideal place to stay, eat, drink and relax.
Plan to stay the night or the whole week while your kids are at camp.
"See us for details"
Call US!
If you would like to improve your skiing skills and outlook on life as part of the Ski Masters team,
call us at (830) 557-5711 and we will reserve your Ski Masters experience for you.
Space is extremely limited and once we are full, we can no longer accept students.
Upon receipt of your non-refundable deposit, we will send you additional information and what you should bring to Ski Masters.

"Ski Ya Later"

Your Friends,
Don & Julie
Skiing...the reason for the season!
© Ski Masters of Texas 2024
All Rights Reserved &copy